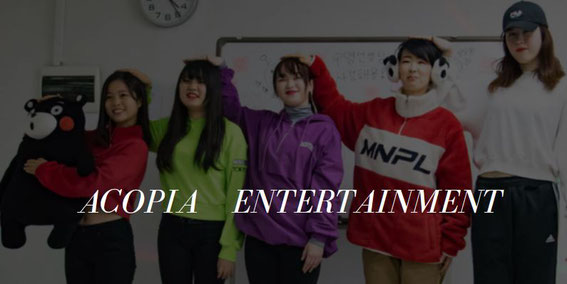 What does ACOPIA ENTERTAINMENT do?
1)Through Acopia's Global Audition in Asian Countries (AGA) and Acopia's Joint Audition in Seoul (AJA), we introduce young, talented people to Korean Entertainment.
2)Our Acopia Star Project allows aspiring idols to debut.
3)We train talented individuals and provide them opportunities to perform in Asian countries. 
◇ACOPIA TRAINEE PROGRAM

 you can now audition!!

Dream of being a K-pop idol, but don't have any auditions nearby?
Here is your chance to shine!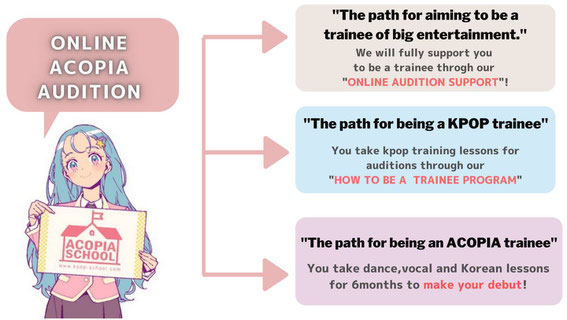 ◇GLOBAL AUDITION

Now open the online kpop audition in ACOPIA!
If you pass the 1st round, you can get the joint audition!
In the joint audition, about 10 entertainments will attend it!
◇ACOPIA AUDITION RULES
 ☆ If you are a minor, please make sure to have your parent's consent before participating.

☆ We accept participants up until 19 years old.

☆ Group entries are not allowed. Only solo performers will be accepted. ☆ Performance time may be shortened depending on the number of participants during the day.

☆Please note that portraits recorded and photographed during the selection process may be used in various media such as TV, magazines and websites related to this audition. ACOPIA has the right to own and use the pictures and videos taken.

☆ Please try to show both singing and dancing. The order is singing first, then dancing.

☆ For singing or rapping auditions, the performance will be acapella, without any music.

☆ Korean songs (or rap) are preferred for singing or rapping auditions.

☆ Dancing auditions can be a cover dance or freestyle dance.

☆ For Dancing auditions, please prepare your music on your smartphone.

*Please prepare an MP3 file, not a YouTube video. If you have an iPhone, please bring your own earphone cord. When submitting the sound source, be sure to unlock the smartphone, set it to a screen that can be played immediately, and remove the smartphone case. To prevent notifications from interrupting the performance, set your smartphone to Airplane Mode.

☆ Please stick the number sticker on your chest. It will be distributed at the reception area.

In this audition, the number will be used instead of the name, so be sure not to lose it. This entry number will also be used in place of the name in the second round of examination in Seoul as well as the trainee contract. Please keep it with you even after auditions are over.

☆ Those who have passed the audition will be able to participate in a joint audition in front of 10 to 15 companies in Seoul.

☆ Please note that information submitted to ACOPIA Entertainment may be sent to those who apply for this audition.

☆ Please note that we cannot respond to inquiries regarding the selection status and selection results.

☆ Transportation and lodging to the venue during the audition as well as meals will be paid for by participants.

☆ Please note that future schedules, venues, and overviews may change due to operational reasons.

☆ACOPIA will be in charge of all contacts with the Korean Performing Arts Office until the second screening.

☆Those whose second audition results in success, the trainee will discuss contracts and terms with the entertainment company accompanied by his/her guardian.